Fennel, a popular vegetable in Italy, comes from the carrot family, and has that distinctive licorice flavor like anise, yet not as strong. While you might stroll past this sweet vegetable while in the produce section of our market, we offer this recipe from the Cantoro kitchen to give you the courage to try it out and cook like Italians do!
Fennel is amazing in the fact that the whole stalk is edible. Italians often eat this at the end of a meal to cleanse the palate.
The bulb can be sliced up and used in salads for an extra depth of flavor you never knew was missing – especially with mandarin oranges, balsamic and salt! In fact, we serve a fennel salad in the Trattoria. The stalk can be added to soups and stews and the feather-like leaves, called fronds, can be chopped up and used as an herb. This delicious vegetable is also packed with vitamin C, along with fiber, potassium and iron.
When choosing fennel make sure the bulb and stalk are bright and without blemishes. The stalks should be packed together tightly and it should not look dry. Store fennel in your fridge and use within the week. The longer the fennel sits and gets dry, the more it loses its flavor, so don't let it sit too long.
"Florence" or "Florentine" fennel and its bulb/root is a basic ingredient in absinthe. In Sicily, wild fennel (different than the fennel pictured here), is used in sardine pasta dishes.
Here are a few recipes from Cantoro to try your hand at using fennel in the kitchen.
Broiled Fennel with Parmesan
Ingredients:
3 medium sized Fennel bulbs (set aside chopped fronds "leaves")
3 TB EVOO
½ Tsp. Salt
1 cup Parmesan
Directions:
Turn broiler to high. Slice fennel bulbs thinly. Place on a baking sheet. Drizzle with EVOO and add salt.
Broil 5-10 minutes.
Add Parmesan to fennel bulbs and place back under broiler for a few additional minutes until cheese is slightly melting.
Sprinkle with fronds and serve!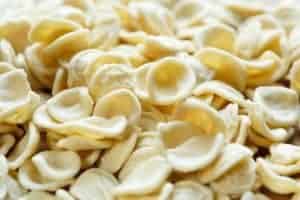 Fennel and Sausage Orecchiette
4 servings
Ingredients:
2 TB. EVOO
1 ½ lb. Cantoro's homemade Italian sausage
1 tsp. Fennel seeds
2 cups fennel bulb, chopped (fronds reserved)
1 medium yellow onion, chopped
3 cloves garlic, minced
12 oz. Orecchiette
¼ cup mascarpone
1 oz. Pecorino, grated
1 cup pasta water reserved, divided
Salt and pepper
Directions:
Heat oil in a deep sauté pan on medium, add sausage, turning frequently until cooked through and brown. Remove sausage and place onto a cutting board off to the side.
Add fennel seeds to the pan and stir until fragrant. Add fresh fennel, onion, garlic and salt. Sauté until the fennel is translucent. Take the pan off the heat.
Boil water and cook pasta until al dente.
While pasta cooks, chop sausage into desired size – we recommend ½ inch thick.
Add sausage back to sauté pan on medium low heat, then add mascarpone, a generous amount of black pepper and ½ cup pasta water, stir.
Drain pasta, saving an additional ½ cup of pasta water, and add pasta to sauté pan. Stir and add additional pasta water if needed to create a creamy consistency – not soupy.
Fold in fennel fronds and serve with pecorino sprinkled on top!
ENJOY!